Retro and vintage weddings are in fashion and many a bride has drawn inspiration from bygone eras for her special day. Vintage weddings are not all about the decorations and dresses; they also require the perfect entertainment to suit the theme.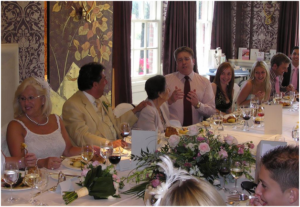 Depending on the decade, vintage wedding entertainment can take on many guises. Here we take a look at what sort of options are available.
The 1940s
Vintage china, bunting and some of the best music from the 40s make for excellent weddings. If you really want to go all out you could buy a Tank Driving Experience for the honeymoon to follow on the theme from links including https://www.armourgeddon.co.uk . This would really set the 1940's wartime era off to a bang. When it comes to music Big band, swing and jazz were incredibly popular in this era; now, over 70 years later, they are still guaranteed to get everyone in the mood. Some of this decade's classics are also incredibly romantic and create a wonderful vintage wedding theme.
The 1950s
If you don't want to splash out on a DJ or a live band for your vintage wedding, a jukebox playing 50s tunes is a great alternative. Fun dressing up resources are cost-effective and unique and will give your big day a special touch. In keeping with the tunes popular in this decade, you can play a mix of lively rock 'n roll, swing and, of course, jive.
The 1960s
If classic rock 'n roll is more your thing, the 60s are a great era from which to choose wedding music. The Beatles and the Rolling Stones had some huge hits; in addition, there are the Motown and soul bands to choose from. A 60s tribute band can add a special flair to your wedding and make the day all the more memorable.
The 1970s
If the original disco hits are a favorite of the bridal couple, 1970s music is the way to go. There are plenty of disco hits from the 1970s that everyone knows and you will soon have a packed dance floor if you are playing songs from the Bee Gees and other popular artists from this time.
The 1980s
Just squeezing in as vintage, the 1980s had some great music, with a tribute band or a DJ clued up on this decade's hits ensuring your wedding day is loads of fun. Madonna, Prince, Michael Jackson and Whitney Houston were all big in the 80s and there are plenty of songs to choose from.